Crypto Notepad is a text editor like Notepad provides all the standard features of Notepad, with the added benefit of encrypted files. Crypto Notepad highlights thanks to the design relatively simple, as it looks very similar to the Windows standard Notepad. It provides a few additional features, such as coding and user interface can be customized, but it's still lightweight and very easy to use.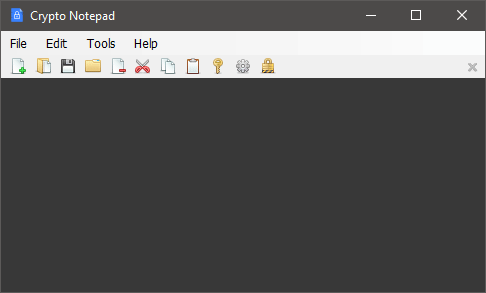 Crypto Notepad - text editor
All notes are secured by a password provided when save the file, and you can customize the encoding settings are different, such as hash algorithm, key size and number of iterations. Crypto Notepad is easy to use for anyone familiar with Windows classic Notepad should find the interface and features of it to explain. It comes with a search function handy highlight matches in the text, but it does not allow you to replace the item.
The program allows you to create secure notes using AES algorithm can be customized, can customize the different parameters of encryption, such as: algorithm hash, key size, repeat password. Just create a note or open the file .existing txt and click the button to save the file as a file .cnp are protected by password.
In addition to very light, this utility can be run from any location without installation on your PC earlier. This means you can put it on a storage device mobile and use it to create secure notes while on the move.
Crypto Notepad supports drag and drop, line numbers, install custom UIS, detect the URL and integrate the context menu option.